november 18-20, 2021
Some Sjögren Europe Board members took part in the EULAR PARE* virtual conference 2021. Linda, Joyce and Alice represented Sjögren Europe and Ana and Katy also took part, representing their national organization.
We had the privilege to make a poster and a short video presenting one of our projects during the conference at the Best Practice Fair Award. We chose to present the campaign about fatigue that we did for World Sjögren's Day 2021. Click on the picture below to downlaod and read the poster: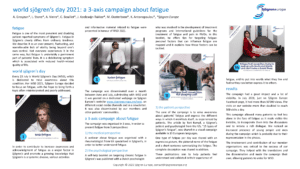 We are very proud to announce you that Sjögren Europe won the first prize at the Best Practice Fair Award for this campaign among more than 25 other different projects!
Four years ago, Sjögren's was not represented at EULAR PARE and many did not know that it was a rheumatic disease. But here we are! We have come a long way, and we still have a long way to go. But we have more visibility and that is already a big step! Many thanks to EULAR PARE for their warm welcome among them!
As mentioned in the poster and in the video, the participation of our member organizations and patient communities in this campaign, helping with translation and/or dissemination, was critical to its success. This campaign and this prize are also theirs and Sjögren's patients': it is the reward for our combined efforts.
The Sjögren Europe team would like to thank you for your trust and support and to underline the amazing job our members do at their national level, which is our basis for moving forward.
*EULAR is the European Alliance of Associations for Rheumatology and the PARE community gathers the organizations which are members of EULAR and which represent people with a rheumatic condition