Fatigue in RMDs – World Sjögren Day 2021 and latest expert insights
21 March 2022, 15:00 CET
Linda Stone, Secretary and Board Member of Sjögren Europe, introduced our campaign on the important topic of fatigue launched by Sjögren Europe for World Sjögren`s Day 2021. At the virtual 2021 EULAR PARE Conference this project was chosen to be awarded with the first prize at the Best Practice Fair. Delegates found it particularly important and inspiring and we are delighted to have the opportunity to have Linda with us to tell us all about it and to answer any questions from the audience.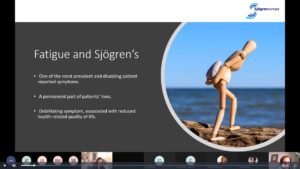 To also cover the aspects and questions around treating and self-managing fatigue we are delighted to be joined by Dr Emma Dures, Associate Professor of rheumatology and self-management at University of the West of England, Bristol, UK,  for the second part of the webinar who will introduce to us the latest aspects and findings around the topic of fatigue, which is of such an impact for people affected by Sjögren`s disease and also very prevalent in other RMDs.You can watch the webinar on the EULAR PARE events platform. You need to create a free account and to log in to be allowed to watch the webinar.
EULAR is the European Alliance of Associations for Rheumatology and the PARE community gathers the organizations which are members of EULAR and which represent people with a rheumatic condition.